Maldives Airport Fast Track Terminal Services
Fast track VIP service at Velana International Airport of Maldives allows tourists to skip the queue at immigration and proceed directly to the lounge where tourists enjoy drinks and snacks. The immigration officials visit the lounge and process passports while tourists are lounging. There is no need to worry about the baggage. A host would collect it from belt and bring to the lounge. This is so convenient for travellers destined to luxury resorts.
Velana airport, also known as Male Airport, is a small but busy place. There is only 1 runway but flights usually land and take off with minutes in between, that is usually during the day time. At immigration there is a special queue for locals, so they exit quickly. Maldives being a tourist destination most of the flights cater to tourists than locals. Tourists often make long queues at immigration and wait for their passports to get stamped. Airport Representatives from different travel agents await at the exist while name boards, usually it takes about 45 – 90 minutes to exit the airport terminal.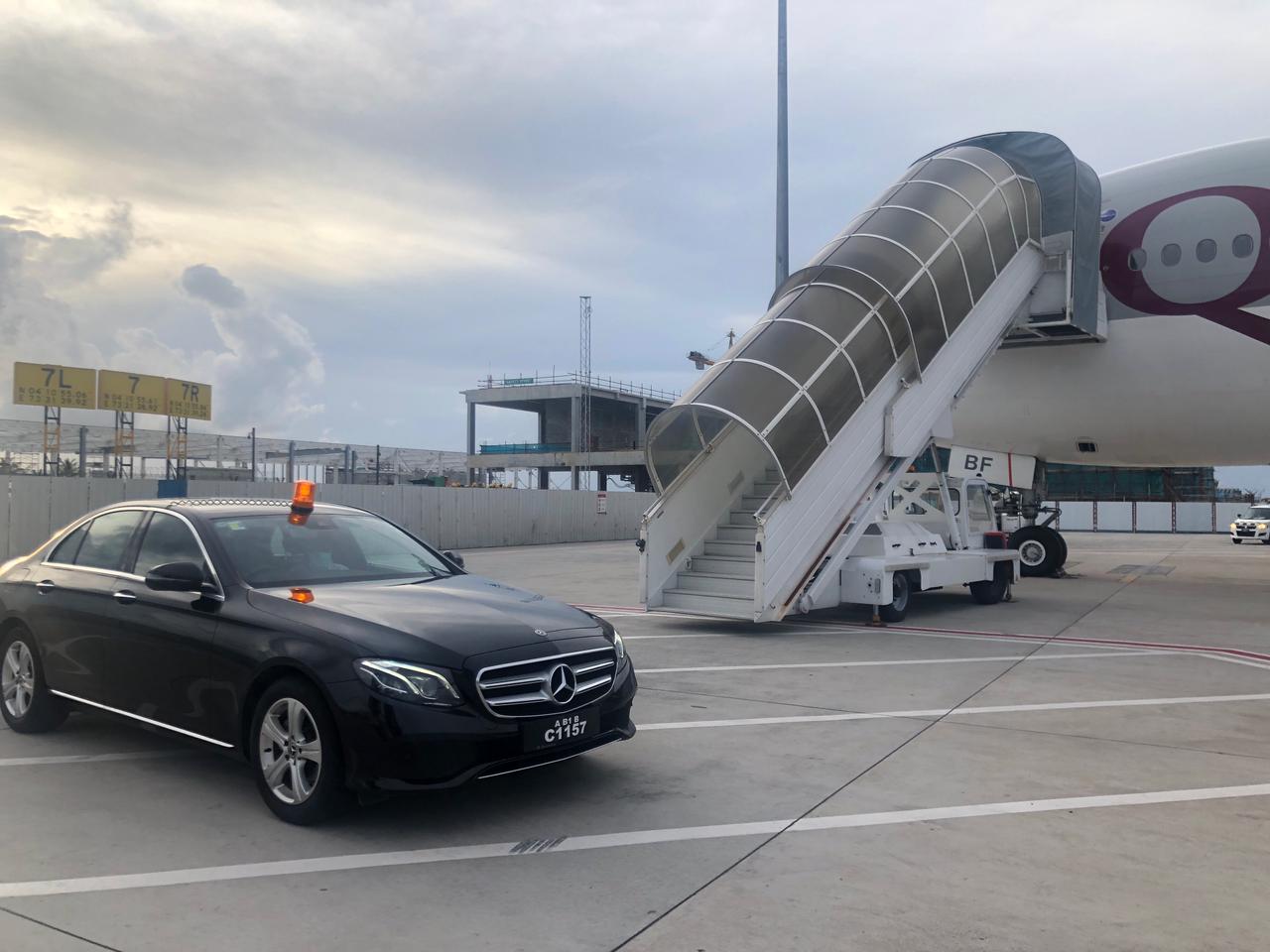 Photo: Limousine waiting for VIP guests at Qatar Airways flight
VIP airport service puts passengers on fast track, it starts the moment you exit the flight. The service is usually obtained by passengers in first class and business class who exit the flight through the door located next to cockpit. Economy class passengers take the rear exit. Since the VIP passengers exit though the front door, the host awaits there to greet the guests when they exit. There is a dedicated vehicle for VIPs, depending on your package it would be a limousine or a larger vehicle that is shared among all VIP guests. Non-VIP passengers take a different vehicle that waits at the Economy Class exit.
Arrival At Maldives Airport
• Meet and greet right at flight stairs (airport tarmac).
• Dedicated vehicle for VIPs escort guests directly to lounge, instead of arrival hall. This is a shared vehicle only for VIP guests. If limousine is booked it is not shared with other VIPs, but limousine availability is usually very tight due to high demand and usage by top diplomats and high ranking government officials who get first priority. There are different booking options you can select.
• VIP guests need not wait for passport processing, they can relax, enjoy drinks and snacks which are included in our package. The Immigration officials visit the lounge and stamp passports while guests are seated in comfort. Passport could be as quick as 5 minutes, usually around 15 minutes.
• A host would go to the belt and collect baggage on behalf of the VIP passenger and brings it to the lounge.
• Free wifi is available to in the lounge.
• Lounge facility can be enjoyed upto 3 hours.
Departure From Airport
• Airport Representative from resort or travel agent escorts VIP guests to the airport lounge.
• A host collects passports of VIP guests and baggage, proceed to check-in as the guest enjoys refreshments and snacks in the lounge. If passenger insists to do the check-in on their own the host is there to help.
• Free wifi in the lounge helps pass the time while waiting for the flight.
• Passport process takes place right in the lounge for the VIPs. Regular guests would have to queue up at the immigration.
• If guest wishes to visit Duty Free Shops the host is there to escort you and show around, this can be done only if time permits.
• When it is time for boarding the host would escort you to a dedicated vehicle for VIPs only, this vehicle is shared by all VIP guests. If dedicated limousine is arranged it would be a private ride without sharing with other VIP guests. In some cases the flight parks very close to the lounge, so no vehicle may be involved if takes only few steps of walk.
• Lounge service is available for upto 3 hours.
Pricing
Arrival Without Limousine: US$280 per person, including all applicable taxes and handling charges.
Departure Without Limousine: US$280 per person, including all applicable taxes and handling charges.
Arrival With Limousine: US$362 per person, including all applicable taxes and handling charges.
Departure With Limousine: US$362 per person, including all applicable taxes and handling charges.
Infants of 1.9 years and below on Free Of Charge basis.
Due to high demand the airport is not allowing limousine for arrivals of scheduled or charter flights. Therefore, the limousine service is available only for private jets. However, for departure the airport allows on case by basis if there are few requests, so we cannot confirm this on advance and all reservations will be done without limousine and in case the airport allows we can charge the price difference to customer.
For private jets the limousine is available for both arrival and departure.
For VIP airport service the slots are limited. It is adisable to book as soon as your flights are confirmed. Please contact us for inquiries and reservation. For more information and reservation please visit our luxury brand
Maldives Finest
or Inquire Now.